Terms of Use
This Web Site is operated by Milkdot, Inc. ("Milkdot"). Your use of this Web Site is governed by these terms and conditions. 


Use License
Milkdot grants you permission to view this Site and to print individual pages from this Site for your own personal, noncommercial use, provided that you agree to and accept without modification the notices, terms and conditions set forth in this agreement. You may not modify, copy (except as set forth in the preceding sentence), distribute, transmit, display, perform, reproduce, publish, license, create derivative works from, transfer or sell any information, material, products or services from this Site. Milkdot will not be liable or responsible for any damages or injuries caused by use of this Site (such as viruses, omissions or misstatements). Your use of this Site constitutes your agreement and acceptance without modification of the notices, terms and conditions set forth herein. In addition, as a condition of your use of this Site, you represent and warrant to Milkdot that you will not use this Site for any purpose that is unlawful, immoral or prohibited by these terms, conditions and notices. Other than this agreement and agreements between you and Milkdot relating to the sale of products to you through this Site, Milkdot will not enter into any agreement with you or obligation to you through this Site.
Trademarks
The trademarks, service marks and logos (the "Trademarks") used and displayed on this Site are registered and unregistered Trademarks of Milkdot. Nothing on this Site should be construed as granting any license or right to use any Trademark displayed on the Site, without the prior written permission of the Trademark owner. Milkdot enforces its intellectual property rights to the fullest extent of the law. The name of Milkdot, Milkdot logo or the other Milkdot formatives may not be used in any way, including in advertising or publicity pertaining to distribution of materials on this Site, without prior, written permission from Milkdot. Other product and company names mentioned in this Site may be the Trademarks of their respective owners.


Links to Third Party Sites
This web site may contain links to web sites owned or operated by parties other than Milkdot. Such links are provided for your reference only. Milkdot does not control outside sites and is not responsible for their content. Milkdot's inclusion of links to an outside site does not imply any endorsement of the material on the site or, unless expressly disclosed otherwise, any sponsorship, affiliation or association with its owner, operator or sponsor, nor does Milkdot's inclusion of the links imply that Milkdot is authorized to use any trade name, trademark, logo, legal or official seal or copyrighted symbol that may be reflected in the linked Site.


Product Orders
Milkdot reserves the right to discontinue the sale of any product listed on this Site at any time without notice. Product prices offered on this Site may vary from other advertised prices due to varying conditions in different geographic markets. The prices displayed on this Web Site are quoted in U.S. dollars and are valid and effective only within the United States, and such prices may not include shipping and handling or sales taxes, if applicable, which will be added to your total invoice price. You are responsible for the payment of any shipping and handling charges and state and local sales or use taxes that may apply to your order. We have done our best to display as closely as possible the colors of the products shown on this Web Site. However, because the colors you see will depend on your monitor, we cannot guarantee that your monitor's display of any color will be accurate.
All questions, comments or inquiries may be directed to:
Milkdot, Inc.
info@milkdot.com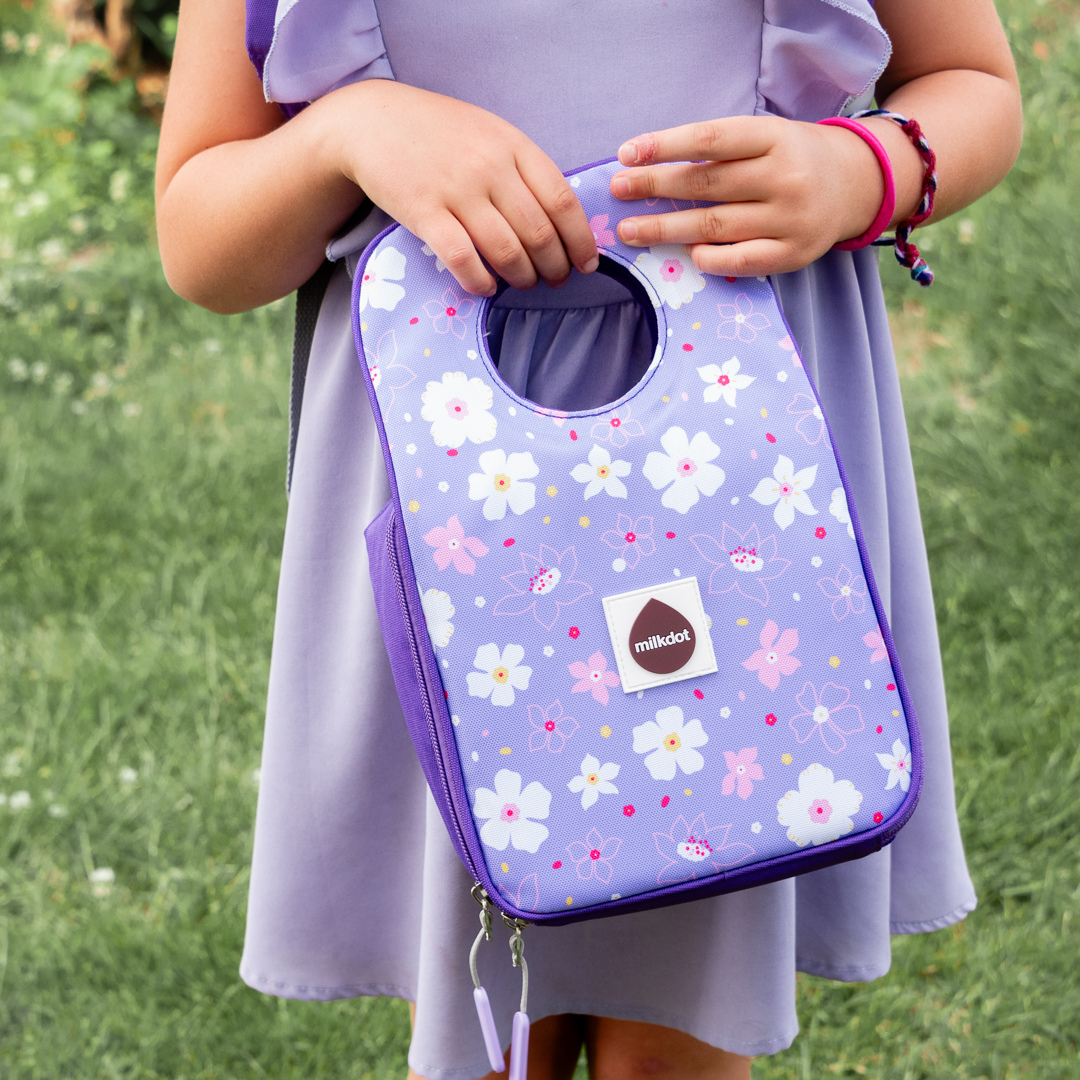 How it all started...
Every idea usually starts with a problem. Ours began years ago, when we started looking for a lunch bag but couldn't find one that was stylish and functional for both kids and adults.
What we did find were inexpensive generic lunch bags in big box stores but those fell apart quickly. We found neoprene ones that smelled toxic (which by the way is off-gassing VOC's or Volatile Organic Compounds). Some lunch bags looked too much like purses. Others were too heavy and bulky. And many were branded with princesses or superheroes. 
So we set out to make something different.